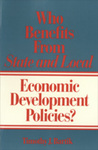 Upjohn Author ORCID Identifier
Publication Date
1-1-1991
DOI
10.17848/9780585223940
Abstract
Bartik reviews evidence on whether state and local policies affect job growth. He then presents empirical data supporting the intentions of such programs, showing that job growth may lead to a number of positive long-term effects including: lower unemployment, higher labor force participation, higher real estate values, and better occupational opportunities. He also shows that the earnings gains to disadvantaged groups outweigh the resulting increased real estate values for property owners, and concludes by saying that regional competition for jobs may actually be a benefit for the nation as a whole.
Files
Download 1. Boon or Boondoggle? The Debate Over State and Local Economic Development Policies (968 KB)
ISBN
9780880991148 (cloth) ; 9780880991131 (pbk.) ; 9780585223940 (ebook)
Subject Areas
ECONOMIC DEVELOPMENT; Local labor markets; Regional policy and planning; Business and tax incentives; Urban issues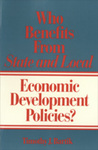 COinS
Citation
Bartik, Timothy J. 1991. Who Benefits from State and Local Economic Development Policies?. Kalamazoo, MI: W.E. Upjohn Institute for Employment Research. https://doi.org/10.17848/9780585223940
Creative Commons License


This work is licensed under a Creative Commons Attribution-NonCommercial-Share Alike 4.0 International License.