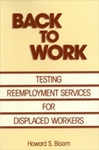 Publication Date
1-1-1990
DOI
10.17848/9780585283319
Abstract
Bloom presents findings from the Texas Worker Adjustment Demonstration, a 2,192-person randomized experimental evaluation of reemployment programs for displaced workers conducted at three sites in Texas. This project demonstrated that a relatively inexpensive mix of job-search assistance and limited occupational skills training can be a cost-effective means of assisting displaced workers.
ISBN
9780880990981 (pbk.) ; 9780585283319 (ebook)
Subject Areas
WORKFORCE DEVELOPMENT; Public training programs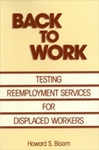 Included in
COinS
Citation
Bloom, Howard S. 1990. Back to Work: Testing Reemployment Services for Displaced Workers. Kalamazoo, MI: W.E. Upjohn Institute for Employment Research. https://doi.org/10.17848/9780585283319
Creative Commons License


This work is licensed under a Creative Commons Attribution-NonCommercial-Share Alike 4.0 International License.