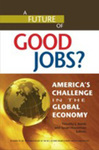 Publication Date
3-28-2008
DOI
10.17848/9781435641037
Abstract
Can the U.S. economy generate healthy growth of "good" jobs—jobs that will ensure a steady improvement in the standard of living for the middle class and that will offer a way out of poverty for low-income Americans? In this book, leading policy analysts examine the challenges facing current U.S. labor market policy and propose concrete steps to make American workers and employers more competitive in a global economy.
Files
Download 1. Introduction and Overview / Timothy J. Bartik and Susan N. Houseman (317 KB)
Download 2. Are Skills the Problem?: Reforming the Education and Training System in the United States / Robert I. Lerman (433 KB)
Download 3. Revising Employers' Role in Sponsoring and Financing Health Insurance and Medical Care / Katherine Swartz (397 KB)
Download 4. Trade and Immigration: Implications for the U.S. Labor Market / Lori G. Kletzer (391 KB)
Download 5. Removing Barriers to Work for Older Americans / Katharine G. Abraham and Susan N. Houseman (405 KB)
Download 6. Improving Job Quality: Policies Aimed at the Demand Side of the Low-Wage Labor Market / Paul Osterman (373 KB)
Download 7. Boosting the Earnings and Employment of Low-Skilled Workers in the United States: Making Work Pay and Removing Barriers to Employment and Social Mobility / Steven Raphael (506 KB)
Note
The outgrowth of a conference sponsored by the Upjohn Institute in Washington, D.C. in June 2007
ISBN
9780880993326 (cloth) ; 9780880993319 (pbk.) ; 9781435641037 (ebook)
Subject Areas
EDUCATION; LABOR MARKET ISSUES; INTERNATIONAL ISSUES; UNEMPLOYMENT, DISABILITY, and INCOME SUPPORT PROGRAMS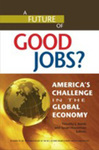 Included in
COinS
Citation
Bartik, Timothy J., and Susan N. Houseman, eds. 2008. A Future of Good Jobs?: America's Challenge in the Global Economy. Kalamazoo, MI: W.E. Upjohn Institute for Employment Research. https://doi.org/10.17848/9781435641037
Creative Commons License


This work is licensed under a Creative Commons Attribution-NonCommercial-Share Alike 4.0 International License.