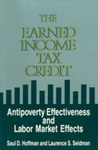 Publication Date
1-1-1990
DOI
10.17848/9780585356341
Abstract
The authors begin with a detailed assessment then perform empirical analyses to predict the outcomes of changes to the structure of the program.
ISBN
9780880990967 (pbk.) ; 9780585356341 (ebook)
Subject Areas
UNEMPLOYMENT, DISABILITY, and INCOME SUPPORT PROGRAMS; Poverty and income support; EITC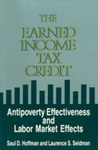 Included in
COinS
Citation
Hoffman, Saul D., and Laurence S. Seidman. 1990. The Earned Income Tax Credit: Antipoverty Effectiveness and Labor Market Effects . Kalamazoo, MI: W.E. Upjohn Institute for Employment Research. https://doi.org/10.17848/9780585356341
Creative Commons License


This work is licensed under a Creative Commons Attribution-NonCommercial-Share Alike 4.0 International License.