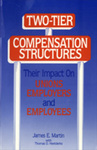 Publication Date
1-1-1990
DOI
10.17848/9780880996068
Abstract
Martin conducted a study at a large company where its various wage tier systems allowed assessment of the long-term impact of tiers. Part of this study included the development of a survey designed to explore eight research questions related to tiers and to test five hypotheses of low-tier v. high-tier employees.
Files
Download 1. An Introduction to Tiered Compensation Structures (1.1 MB)
ISBN
9780880990882 (pbk.) ; 9780880996068 (ebook)
Subject Areas
LABOR MARKET ISSUES; Employment relationships; Unions and collective bargaining; Wages, health insurance and other benefits; Inequality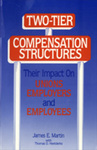 COinS
Citation
Martin, James E. 1990. Two-Tier Compensation Structures: Their Impact on Unions, Employers, and Employees. Kalamazoo, MI: W.E. Upjohn Institute for Employment Research. https://doi.org/10.17848/9780880996068
Creative Commons License


This work is licensed under a Creative Commons Attribution-NonCommercial-Share Alike 4.0 International License.