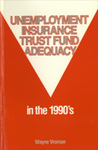 Publication Date
1-1-1990
DOI
10.17848/9780880996112
Abstract
Vroman introduces a model-based approach to the study of UI financing. He creates simulations for several large states in order to examine a series of funding issues, and analyzes the performance of those state's systems. In addition, he presents the regional aspects of UI funding. Vroman concludes with a brief presentation of UI solvency prospects and a description of a possible federal role in enhancing UI fund solvency.
Files
Download 1. Background of the Financing Problem (1.7 MB)
ISBN
9780880991025 (pbk.) ; 9780880996112 (ebook)
Subject Areas
UNEMPLOYMENT, DISABILITY, and INCOME SUPPORT PROGRAMS; Unemployment insurance; Benefit financing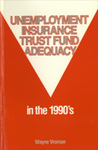 Included in
COinS
Creative Commons License


This work is licensed under a Creative Commons Attribution-NonCommercial-Share Alike 4.0 International License.