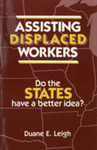 Publication Date
1-1-1989
DOI
10.17848/9780880995337
Abstract
This work provides a comprehensive assessment of state initiatives designed to deal with worker displacement. Leigh considers quantitative and qualitative studies of state programs, evaluations of state- and federally-funded demonstration projects and pilot programs, and studies of the design and operation of foreign government programs.
Sponsorship
Research contract awarded by the Washington State Legislature to study programs designed by other states to meet the adjustment assistance needs of displaced workers; Financial support from the W.E. Upjohn Institute for Employment Research
ISBN
9780880990745 (pbk.) ; 9780880995337 (ebook)
Subject Areas
LABOR MARKET ISSUES; Job security and unemployment dynamics; Dislocated workers; WORKFORCE DEVELOPMENT; Public training programs; WIA, JTPA, and CETA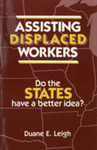 Included in
COinS
Citation
Leigh, Duane E. 1989. Assisting Displaced Workers: Do the States Have a Better Idea? Kalamazoo, MI: W.E. Upjohn Institute for Employment Research. https://doi.org/10.17848/9780880995337
Creative Commons License


This work is licensed under a Creative Commons Attribution-NonCommercial-Share Alike 4.0 International License.