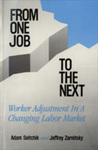 Publication Date
1-1-1989
DOI
10.17848/9780880995627
Abstract
The authors discuss how the structure of job opportunities has changed over the last two decades; specifically the transfer of jobs from manufacturing to service industries. They then link these changes to issues of worker displacement policy and worker mobility.
Files
Download Worker Adjustment in Perspective (726 KB)
Sponsorship
Prepared by Abt Associates Inc. under a research grant from the W.E. Upjohn Institute for Employment Research
ISBN
9780880990776 (pbk.) ; 9780880995627 (ebook)
Subject Areas
LABOR MARKET ISSUES; Job security and unemployment dynamics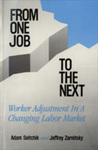 Included in
COinS
Citation
Seitchik, Adam, and Jeffrey Zornitsky. 1989. From One Job to the Next: Worker Adjustment in a Changing Labor Market. Kalamazoo, MI: W.E. Upjohn Institute for Employment Research. https://doi.org/10.17848/9780880995627
Creative Commons License


This work is licensed under a Creative Commons Attribution-NonCommercial-Share Alike 4.0 International License.