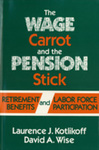 Publication Date
1-1-1989
DOI
10.17848/9780880996150
Abstract
Kotlikoff and Wise document the continued backloading of pension benefits and the extent of retirement incentives by examining pension accrual in over 1,500 companies with defined benefit plans. They also perform a detailed analysis on the retirement plan of a "Fortune 500" company.
Sponsorship
Financial support from the W.E. Upjohn Institute for Employment Research, the National Institute of Aging (grant number 3P01AG05842-01), the Department of Health and Human Services, and the National Bureau of Economic Research
ISBN
9780880990813 (pbk.) ; 9780880996150 (ebook)
Subject Areas
LABOR MARKET ISSUES; Retirement and pensions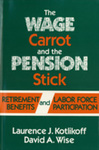 Included in
COinS
Citation
Kotlikoff, Laurence J., and David A. Wise. 1989. The Wage Carrot and the Pension Stick: Retirement Benefits and Labor Force Participation. Kalamazoo, MI: W.E. Upjohn Institute for Employment Research. https://doi.org/10.17848/9780880996150
Creative Commons License


This work is licensed under a Creative Commons Attribution-NonCommercial-Share Alike 4.0 International License.