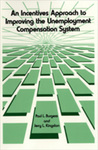 Publication Date
1-1-1987
Series
National Chamber Foundation report
DOI
10.17848/9780880995740
Abstract
Overpayments may account for up to 15 percent of all payments made under the unemployment compensation system. Burgess and Kingston propose that this overpayment serves as a clue to the more serious problems residing in the system. The authors focus on the lack of incentives (or the existence of disincentives) for improvement within the UC program structure for all participants - claimants, employers, and state UC agencies. Other issues they explore include the excessive complexity of the system and the difficulty of effectively monitoring claimant compliance with eligibility criteria.
Sponsorship
Grant from the National Chamber Foundation of the U.S. Chamber of Commerce
ISBN
9780880990486 (pbk.) ; 9780880995740 (ebook)
Subject Areas
UNEMPLOYMENT, DISABILITY, and INCOME SUPPORT PROGRAMS; Unemployment insurance; Benefits and duration; Benefit financing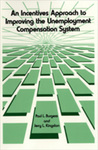 Included in
COinS
Citation
Burgess, Paul L., and Jerry L. Kingston. 1987. An Incentives Approach to Improving the Unemployment Compensation System. Kalamazoo, MI: W.E. Upjohn Institute for Employment Research. https://doi.org/10.17848/9780880995740
Creative Commons License


This work is licensed under a Creative Commons Attribution-NonCommercial-Share Alike 4.0 International License.