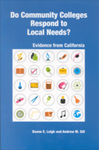 Publication Date
10-31-2007
DOI
10.17848/9781429492089
Abstract
Leigh and Gill focus on two major, policy relevant sources of change at the local level. First, on the supply side, they examine how responsive community colleges' are at meeting the needs of the growing immigrant population for education and training. Then, on the demand side, they look into whether the need of local employers for skilled workers is being met, an issue impacted by dynamic technological change and increased global competition.
ISBN
9780880993289 (cloth) ; 9780880993272 (pbk.) ; 9781429492089 (ebook)
Subject Areas
EDUCATION; Postsecondary education; Career and technical education; ECONOMIC DEVELOPMENT; Regional policy and planning; Regional collaboration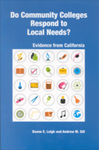 COinS
Citation
Leigh, Duane E., and Andrew M. Gill. 2007. Do Community Colleges Respond to Local Needs?: Evidence from California. Kalamazoo, MI: W.E. Upjohn Institute for Employment Research. https://doi.org/10.17848/9781429492089
Creative Commons License


This work is licensed under a Creative Commons Attribution-NonCommercial-Share Alike 4.0 International License.