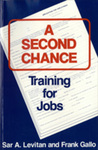 Publication Date
1-1-1988
DOI
10.17848/9780880995955
Abstract
Levitan and Gallo make use of their considerable experience and prior research to provide a critical assessment of the Job Training Partnership Act (JTPA). The authors evaluate state governments' role in guiding and monitoring the program, and suggest that the success rates are actually lower than the reported official figures. Anyone interested in the JTPA or other job training program will benefit from the assessments provided by the authors in this book.
Files
Download 1. A Continued Federal Commitment (976 KB)
Sponsorship
Prepared under an ongoing grant from the Ford Foundation to the George Washington University's Center for Social Policy Studies
ISBN
9780880990561 (pbk.) ; 9780880995955 (ebook)
Subject Areas
LABOR MARKET ISSUES; Job security and unemployment dynamics; Dislocated workers; WORKFORCE DEVELOPMENT; Public training programs; WIA, JTPA, and CETA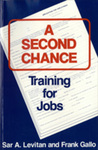 Included in
COinS
Creative Commons License


This work is licensed under a Creative Commons Attribution-NonCommercial-Share Alike 4.0 International License.